Okay folks, we're back! I can't believe how long it has been since I've reviewed a book or a series; shameful really! Well, we're back and thrilled to share some amazing new books with you and your kids!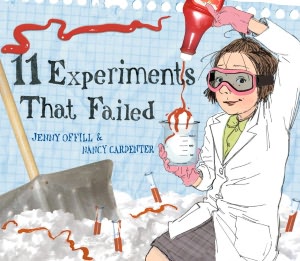 written by Jenny Offill and illustrated by Nancy Carpenter
age: elementary aged children (and their parents or grandparents)
11 Experiments that Failed
is what every kid dreams of trying at least one time. I'm reminded of one time that I shot mashed potatoes across the table and they landed smack between my grandpa's eye and the lens of his glasses. Automatic trouble-but I digress. What would happen if you ate nothing but ketchup snow cones or tried to grow fungi in your brother's shoes? Can a washing machine wash more than just clothes? Well, this book answers those and many other pressing questions!
This is such a charming book with clever illustrations.
11 Experiments that Failed
is fun and filled with whimsy and childhood imagination. The scientist in the family will enjoy the clever use of hypotheses and results. Everyone was laughing out loud by the time we finished the book. Reading this book is one experiment to try!