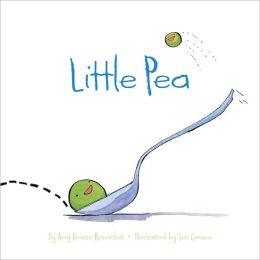 Little Pea
Written by: Amy Krouse Rosenthal
Illustrated by: Jen Corace
Ages: 2-6
Little Pea has a loving Mama and Papa pea and has so much fun-until dinner time arrives. But what is a cute green pea to have for his dinner? Why, some delicious candy, of course! Poor Little Pea finds his dinner just deplorable. But if Little Pea doesn't eat all of his candy dinner, he can't have dessert! What is a little pea to do?
The vegetable averse in your life will love this book. Silly and fun with simple, yet charming illustrations
Little Pea
is sure to become a favorite in your house.